Position and Zoom¶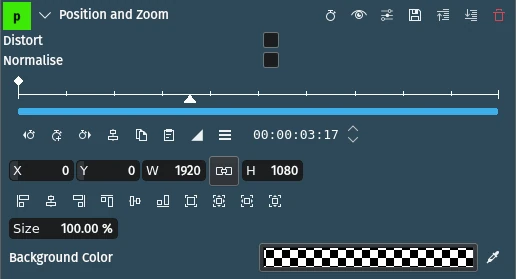 Description
This effect/filter allows to adjust size and position of the clip using smooth affine transformations. Formerly known as Pan and Zoom.
Parameters
| Parameter | Value | Description |
| --- | --- | --- |
| Distort | Switch | Determines whether the image aspect ratio will be distorted while scaling to completely fill the rectangle |
| Normalise | Switch | Use the video resolution instead of the project resolution |
| X / Y / W / H / Size | Various | This is where the action is for Position (X, Y) and Zoom (Size) |
| Background Color | Picker | Define the background color to be used when zooming out reveals the background. Default is Alpha. |
Warning
As of this writing and in version 23.04 there are many confirmed reports that the compositing of clips using the Position and Zoom effect does not work properly and leaves artifacts. A bug report has been created, and until it is fixed use the Transform effect instead.