3 Point Balance¶
This effect is a simple implementation of the Bezier Curves effect. With the simplified interface you select the shades of grey using the pipette color picker for Black Level, Grey Level and White Level, or use the color selection buttons. See also Bezier Curves.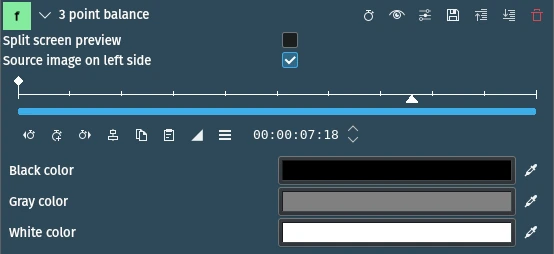 Split screen preview - Select this to have a split screen in the Project Monitor where you can compare the results of the effect/filter with the original clip.

Source image on left side - If Split screen preview is enabled, the original clip is on the left side of the split screen. Uncheck this to have the original on the right-hand side of the split screen.

Black / Gray / White color - Represent the Black, Grey and White levels for the clip.