Note: Between August, 2013 and October 2014 this feature had been unavailable and the "Get Hot New Stuff" window will wait forever to update. See Mantis 3133. From around Oct 2014 this feature has been re-instated. However as at Oct 2015 there are only two profiles available for download.
The workaround for this issue is to use Kdenlive ver 0.9.10 (or higher) and create your own new render profiles and make use of the melt property presets – as described Render Profile Parameters.
This feature allows you to download new render profiles that have been shared by the community. These will then appear as options in the Rendering window.
The new render profile installed above shows up in the Web Sites category under Custom.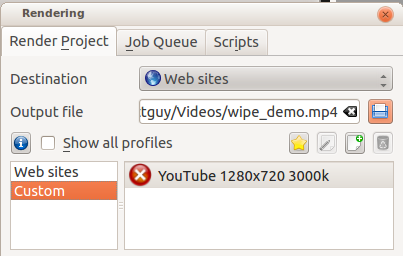 Note
It has the big red cross because the render profile is in need of an audio codec not installed on this machine
The installed files are placed in /usr/share/mlt/presets/consumer/avformat